Water Heater Installation Services in Downers Grove, IL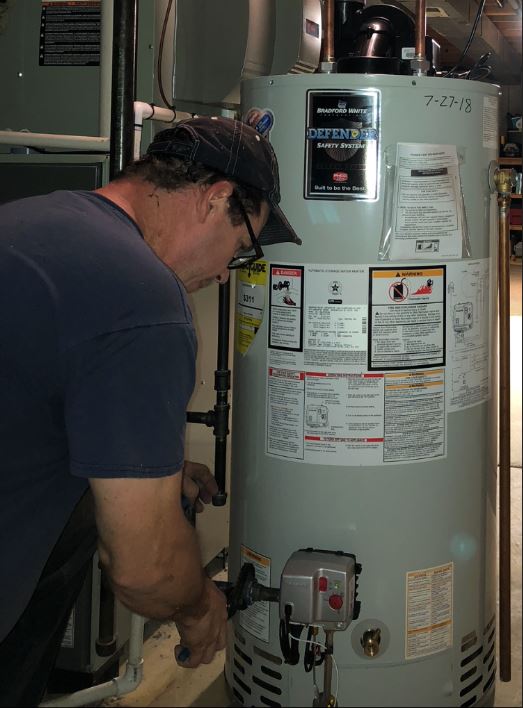 Water heaters are one of the most essential and hardest working appliances in a home or commercial building; after working 24/7 to provide heated water throughout the rest of the property, they surely won't last forever. In fact, most only last 8 – 10 years and it makes more sense to be replaced.
Installing a water heater can also be a challenge for anyone who has never done it before, let alone understand how it works. So Good Work Plumbing and Electrical is proud to provide water heater installation services in Downers Grove, IL.
Our expert plumbers have over 30 years of combined experience and are fully licensed to conduct a number of plumbing services (water heater repair and replacement being one of them). We are also available 24/7 in case of a plumbing emergency.
If you notice any of the following situations with your water heater, it may be due for replacement:
There is corrosion around the connecting pipes
It frequently runs out of hot water
The heater is over 10 years old
Produces popcorn sounds coming from the water heater
Produces murky hot water
Insufficient hot water
Leaky fittings or rusty tank
If you are unsure whether or not your water heater should be replaced, simply give Good Work Plumbing and Electrical a call and we will be more than happy to provide a suggestion. Following this, we can also suggest a few of the best brands that fit your budget and install it for you as part of the service.
Water Heater Options
There are many different water heaters and brands to choose from, including all of the following:
Gas Water Heaters
Solar Water Heaters
Tankless Water Heaters
Navient Tankless Water Heaters
Rinnai Tankless Water Heaters
Eternal Tankless Water Heaters
We install and service the following water heater brands:
Whirlpool
Rheem
U.S. Craftmaster
A.O. Smith
Rudd Company
Bradford White
Sears Kenmore
American
Reliance
Bosch
Stiebel Eltron
Lochinvar
State
Marathon Electric
Ease of Installation
Despite the numerous options to choose from, our professionals can provide a recommendation, and have it installed as soon as it arrives. We will also do so without removing any of the building materials to reach the piping.
Replacing the Water Heater
Our professional and honest plumbers offers competitive rates while ensuring that the job is done right the first time. We also use industry standard parts to prevent leaks, malfunctions, or any corrosion within the first few years.
And last but not least – we guarantee the quality of our work. If you are not happy with the way your water heater has been installed we will come back and fix it an no additional charge.
After installing the new water heater, we will remove the old one, along with all debris, and clean out the area afterwards. So, when our work is done, so is yours.
Finally, you can expect the peace of mind you need knowing that you and everyone on the property will have access to hot water, without experiencing delays or other problems in the future.
Full Service Installation for Residential and Commercial Properties
Whether you need plumbing installation or repair services for home or commercial water heaters, boilers, storage tanks, thermostatic mixing or return systems, you can rely on the professionals of Good Work Plumbing Systems.
Our technicians are fully licensed, and experienced and will treat you with respect. You can expect us to arrive in shoe covers and tarp work areas with clean drop cloths in order to keep your property clean during the services.
Get your new water heater installed as soon as today!
For professional water heater installation services in Downers Grove, IL, call Good Work Plumbing and Electrical at 630-381-8285
Qualified, Licensed and Insured
Good Work Plumbing and Electrical serving Downers Grove IL, and the surrounding west Chicago communities, is a qualified licensed and insured Plumbing & Electrical contractor
Over 30 Years Experience
With over 30 years experience, we are the leading local plumbing and electrical repair experts.
Affordable Good Work Price
When you hire Good Work Plumbing and Electrical Services, you can be at ease that all your projects will be done right the first time and with an affordable Good Work price
Reliable, Prompt and Understanding
We take ownership and responsibility of every job, so you're assured the job gets done right the first time. We are always reliable, prompt and understand your busy schedule
We Can Save You Time and Money
When you hire Good Work Plumbing & Electrical Services you save time and money because both your plumbing and electrical jobs can be completed at the same time, same day with no additional service call charges