Plumbing Installation Services from a Local Contractor
The water supply in your home is controlled by the plumbing system and in order for the system to function properly, it must contain quality, working parts.
The plumbing system consists of several different parts including pipes, plumbing fixtures like toilets and faucets, appliances, valves, connectors, and others.
It is important for these parts to always function properly, and if a part has become worn out or broken, it must be replaced right away.  At Good Work Plumbing and Electrical, we can install new plumbing fixtures, appliances, and various parts to ensure that your plumbing system functions properly.
Good Work Plumbing and Electrical is a plumbing contractor that provides plumbing installation services in Downers Grove, IL and the nearby western Chicago communities.
Our experienced plumbing professionals have been doing plumbing installations for over 30 years and can handle installing anything from shut-off valves and fixtures to appliances.
We are also an electrical contractor which means that we can take care of the electrical work for installations that require electricity such as water heaters and garbage disposals.
Trusted Plumbing Installation

Good Work Plumbing and Electrical is committed to providing quality installation services with an expert level of craftsmanship.  Our trained and certified technicians have the expertise to properly install plumbing fixtures and appliances from all major brands.
We offer free estimates for many of our larger installations and we respect your schedule, so we will always show up on time.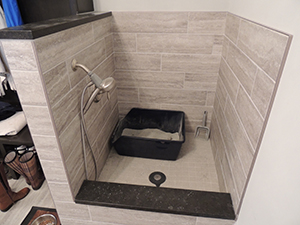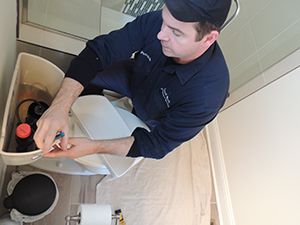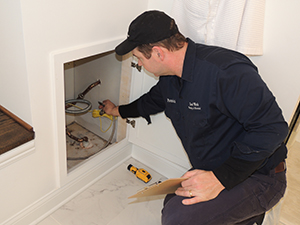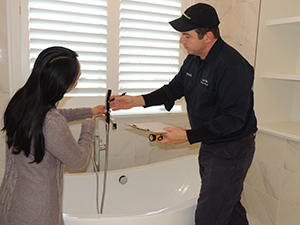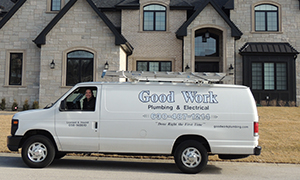 Our plumbing installation services cover the following:
Faucets and Sinks: If the faucets and sinks in your kitchen and bathroom are worn out, broken, or outdated, we can replace them with new fixtures. It is important to replace leaking fixtures quickly to prevent water damage and higher water bills.
Toilets: A new toilet can improve the appearance and functionality of your bathroom which can increase the value of your home. We can fully install a new toilet in your bathroom.
Water Heaters: Water heaters are vital in a home and they require a high level of expertise to install. Our technicians can install water heaters and ensure that it is hooked up properly.
Shut-Off Valves: The shut-off valve is extremely important because you need to be able to shut off the water in an emergency. We will replace faulty shut-off valves to ensure that yours works properly.
Appliances: Major appliances such as dishwashers and washing machines need to be hooked up to the plumbing system. Our technicians can properly install these appliances and handle the needed electrical work.
Garbage Disposals: We can replace your worn-out garbage disposal with a brand new one.
Sump Pump: It is very important to have a functioning sump pump to protect your home from flooding. We can install sump pumps and ensure that they are working properly.
Why Choose Us

In Illinois, the plumbing industry is regulated by the State for the protection of public health.  Plumbing services and installations that are done improperly can create dangerous conditions such as the release of toxic gases and contamination of drinking water.
At Good Work Plumbing and Electrical, we are licensed by the Illinois Department of Public Health to provide plumbing services including installation.
We can provide full plumbing installation services for just about any component of your plumbing system, as well as any electrical work needed for the installation.
If you need to have a plumbing fixture or appliance in your home replaced, call our experts at (630) 487-1214
Related Plumbing Services:
Plumbing Repair Services 60516
Qualified, Licensed and Insured
Good Work Plumbing and Electrical serving Downers Grove IL, and the surrounding west Chicago communities, is a qualified licensed and insured Plumbing & Electrical contractor
Over 30 Years Experience
With over 30 years experience, we are the leading local plumbing and electrical repair experts.
Affordable Good Work Price
When you hire Good Work Plumbing and Electrical Services, you can be at ease that all your projects will be done right the first time and with an affordable Good Work price
Reliable, Prompt and Understanding
We take ownership and responsibility of every job, so you're assured the job gets done right the first time. We are always reliable, prompt and understand your busy schedule
We Can Save You Time and Money
When you hire Good Work Plumbing & Electrical Services you save time and money because both your plumbing and electrical jobs can be completed at the same time, same day with no additional service call charges