Plumbing Home Inspection Services in Downers Grove and the Surrounding Areas

The plumbing system in your home is responsible for supplying water to your plumbing fixtures and appliances, as well as safely removing waste.
Any problems with your plumbing system can lead to leaks, overflows, or even worse, a backup containing sewage or waste materials.
When water leaks in your home, it can spread within the building materials and cause serious structural damage and mold growth if the problem is not addressed quickly.
Overflows containing waste also pose a serious health risk as those exposed to the water are in danger of illness or infections.
Having the plumbing in your home inspected by a trusted plumbing contractor like Good Work Plumbing and Electrical can help prevent problems with your plumbing system that can lead to extensive damage.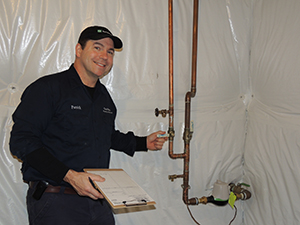 Good Work Plumbing and Electrical is a plumbing contractor based out of Downers Grove, IL that provides complete home plumbing inspections.
We can do a full inspection of the plumbing system of your home to make sure everything is running properly and in compliance with local codes and public health regulations.
We also provide plumbing inspections for homes on the market and we will work with realtors, home inspectors, and individuals to ensure that a home being bought or sold is properly inspected.
Our licensed plumbing technicians have years of experience and can properly identify any issues with your plumbing system.
Professional Plumbing Inspections
A plumbing inspection from Good Work Plumbing and Electrical includes an inspection of the pipes, connections, and appliances or fixtures for each of the main plumbing systems.
Our inspectors are thorough, and we always have local codes and health regulations in mind when evaluating the condition of the plumbing system and its components. After the inspection, we will create a list of issues and recommendations to get your plumbing system up to code.
Our home plumbing inspections cover the following systems:
Main water supply and water lines
Hot water heater
Waste lines
Sewage ejector pumps
Sump pumps
We will check for the following issues during our plumbing inspections:
Leaks: Water leaks are a common problem with plumbing systems and they can lead to major damage over time. We will check appliances, pipes, and connectors for leaking issues and look for signs of a hidden leak such as mold, stains, mildew, or warping.
Cross-connection problems: It is very important that water supply lines and waste lines are running separately to avoid contamination. We will check for any instances of cross-connection in which the water supply is contaminated by waste or something else.
Pipe problems: Pipes are the main component of the plumbing system and it is very important that they are in good repair. We will check the pipes for any damage, cracks or ruptures and ensure that the right pipes are being used for the right purposes.  We will also look for rusty or worn out pipes that need to be replaced and check for any blockages within the pipes.
Plumbing Home Inspections when Buying or Selling a Home
When buying or selling a home, it is important to have the plumbing inspected to ensure that there are no issues.
If you are a home buyer, having the plumbing inspected before closing on the home can save you the trouble of dealing with a serious problem.
If you are selling your home, you should have the plumbing inspected before a potential buyer can so that you can find and resolve any issues that could cause a buyer to hesitate.
Our plumbing professionals at Good Work Plumbing and Electrical are ready to work with individual buyers and sellers, as well as home inspectors and realtors, to provide plumbing inspections for homes up for sale.
If you need a plumbing inspection done for your home in Downers Grove, IL or the surrounding western Chicago suburbs, call the professionals of Good Work Plumbing and Electrical.
Our experienced technicians fully understand local codes and health regulations in regard to plumbing systems and will help ensure that your plumbing system is up to code.
You can reach Good Work Plumbing and Electrical by calling 630-381-8285
Qualified, Licensed and Insured
Good Work Plumbing and Electrical serving Downers Grove IL, and the surrounding west Chicago communities, is a qualified licensed and insured Plumbing & Electrical contractor
Over 30 Years Experience
With over 30 years experience, we are the leading local plumbing and electrical repair experts.
Affordable Good Work Price
When you hire Good Work Plumbing and Electrical Services, you can be at ease that all your projects will be done right the first time and with an affordable Good Work price
Reliable, Prompt and Understanding
We take ownership and responsibility of every job, so you're assured the job gets done right the first time. We are always reliable, prompt and understand your busy schedule
We Can Save You Time and Money
When you hire Good Work Plumbing & Electrical Services you save time and money because both your plumbing and electrical jobs can be completed at the same time, same day with no additional service call charges