Professional Electrical Installation Services
Our homes are filled with electrical appliances and devices that we use every day.  Some of these devices such as computers, TVs, and video games are for our entertainment while some such as light fixtures, ceiling fans, and electrical outlets are important for the functionality of the home.
You can help improve your home by replacing old appliances and electronics or adding new electrical installations.  If any of the electrical features such as the fixtures or outlets are faulty, it is very important to replace them as soon as possible to avoid fires or electrocution.
Whether you need something replaced or want to make a new electrical installation in your home, you need the help of a licensed electrical contractor to handle the installation.
Good Work Plumbing and Electrical is a licensed electrical contractor that provides electrical installation services in Downers Grove, IL and the surrounding western Chicago suburbs.
Our highly trained electricians can safely and effectively handle a wide range of electronic installations from light fixtures and electrical outlets to dishwashers and garbage disposals.
We will provide you with a detailed estimate for larger installations and we always follow local, state, and national electrical codes.
Reliable Electrical Installation
The electrical technicians of Good Work Plumbing and Electrical have over 30 years of experience providing electrical installations.
We pride ourselves on our expert level of craftsmanship and we have a thorough understanding of how electrical systems work to make safe installations. We also have experience working with electrical systems in historic homes.
Our licensed electricians can properly install the following:
Light Fixtures: Light fixtures must be wired correctly into the electrical system of a home. Our professionals can install any type of light fixture.
Recessed Can Lights: We can help install recessed can lights anywhere in your home.
Light Switches and Outlets: If you want to add a new light switch or electrical outlet, we can install it and connect it with your electrical system.
Ceiling Fans: A ceiling fan can help you better control the climate in your home. We can properly install any ceiling fan.
Exhaust Fans: We can install an exhaust fan in your kitchen or bathroom.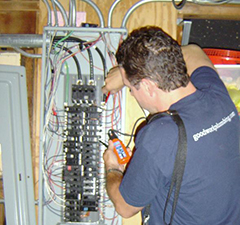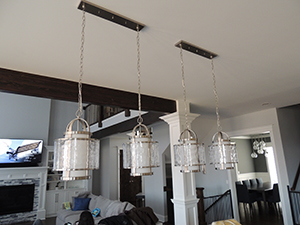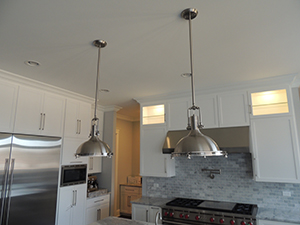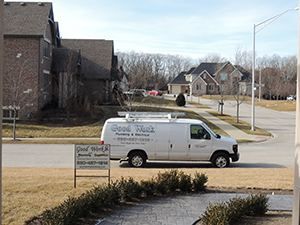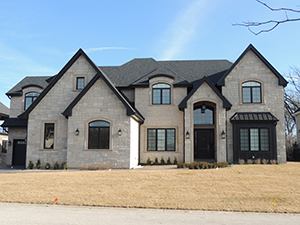 As a licensed electrical and plumbing contractor, we can provide installation services for electrical appliances that are also part of the plumbing system.  We can install the following plumbing appliances:
Dishwashers
Garbage disposals
Sump pumps
Ice makers
Water heaters
Boilers
Installing electrical fixtures and appliances is a complicated and dangerous job for those who are not trained electricians.  If you need a new electrical installation in your home, you can trust our professionals at Good Work Plumbing and Electrical.
Our highly trained electricians can correctly install electrical fixtures and appliances and ensure that they will work safely within the electrical system of your home.
Call us at 630-381-8285 for professional electrical installation services in Downers Grove, IL and the surrounding western Chicago suburbs
Related Electrical Services in Downers Grove, IL:
Electrical Repair Downers Grove, IL 60515
Qualified, Licensed and Insured
Good Work Plumbing and Electrical serving Downers Grove IL, and the surrounding west Chicago communities, is a qualified licensed and insured Plumbing & Electrical contractor
Over 30 Years Experience
With over 30 years experience, we are the leading local plumbing and electrical repair experts.
Affordable Good Work Price
When you hire Good Work Plumbing and Electrical Services, you can be at ease that all your projects will be done right the first time and with an affordable Good Work price
Reliable, Prompt and Understanding
We take ownership and responsibility of every job, so you're assured the job gets done right the first time. We are always reliable, prompt and understand your busy schedule
We Can Save You Time and Money
When you hire Good Work Plumbing & Electrical Services you save time and money because both your plumbing and electrical jobs can be completed at the same time, same day with no additional service call charges