Indoor plumbing has long been a major feature of our homes and it is important for plumbing systems to always function properly. If there is an issue with the plumbing in your home, you may not only end up dealing with extra water, but also dangerous contaminants that can lead to serious health issues. When homeowners experience issues with any aspect of the plumbing system, it is best to contact a professional plumber to handle the job. However, you shouldn't just contact any plumber, you must make sure that you hire a plumbing contractor that is licensed.
Plumbers provide important services that keep your plumbing system functional and protect the safety of your home.  They must know how to make necessary repairs and diagnose problems with your plumbing system, so they can be addressed before they lead to serious issues.  When you hire a licensed plumber, you can trust that they will have the expertise and equipment to resolve any issues with your plumbing system and get the job done right.  Many states, including Illinois, require plumbers to be licensed to provide services, but you should still make sure yourself that a plumbing contractor is licensed before hiring them.
Plumbing Licenses in Illinois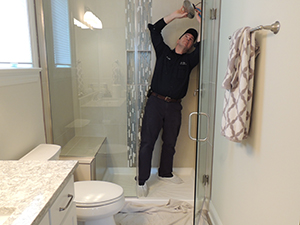 The Illinois Department of Public Health (IDPH) regulates the plumbing industry in Illinois because good plumbing practices are important for protecting the heath of the public.  Faulty plumbing services can cause the release of toxic gases as well as contamination of the drinking water with dangerous pathogenic organisms.  Illinois law requires plumbers to be licensed by the IDPH to ensure that they meet the minimum code of standards for a range of plumbing services including inspections, installations, repairs, and maintenance. A licensed plumber in the state of Illinois must also continue to develop their skills and knowledge of the industry by staying current on their continuing education requirements.
In order to become a licensed plumber in Illinois, one must meet the following criteria:
Must be a citizen of the U.S. or in the process of declaring citizenship.
Must have worked at least 4 years as a licensed apprentice plumber.
Must have completed 2 years of high school or the equivalent, as well as an approved course instruction at a trade school, college, or university.
Must pass a licensing exam.
Under Illinois law, a plumbing contractor must at the least have general liability insurance, property damage insurance, bodily injury insurance, and workers' compensation insurance for the protection of their customers and employees.
Why Hire A Licensed Plumbing Contractor?
Hiring a licensed plumber is the best way to guarantee quality services and ensure that you will be protected if something goes wrong. This will also save you time, money, and the headache of dealing with a plumber that does a terrible job.  The following are the main reasons why you should always make sure your plumber is licensed:
Training and Expertise: As described above, a plumber must prove their expertise by working as an apprentice, completing required education courses, and passing an exam to obtain a license. They must also understand and work within local regulations. This means that a licensed plumber has proven to the State of Illinois that they have been properly trained and possess the expertise to provide effective plumbing services in compliance with their code of standards.  Hiring a licensed plumber guarantees that you are hiring a professional who is well qualified.
Proper Equipment: It is very important for a plumber to have the right equipment to provide safe and effective plumbing services. No matter what type of plumbing services you need for your home, you can trust a licensed plumber to show up with the right tools to complete the job.
Compliance with Local Codes: Faulty plumbing can lead to dangerous situations because plumbing systems contain toxic gases and harmful waste materials. There are codes in place to ensure that plumbing work is done safely, and licensed plumbers are trained to work within these codes.  Licensed plumbers will ensure that your plumbing system follows all local regulations to help keep your home safe.
Effective Plumbing Services: Licensed plumbers are held accountable to the IDPH for their services, so you have some recourse if something goes wrong. For the most part, licensed plumbers are industry experts that can correctly diagnose, troubleshoot, and resolve any issues with your plumbing system. Unlicensed plumbers are not held accountable to any standards and they are typically not insured. If an unlicensed plumber provides you with faulty plumbing services, there is usually nothing you can do.
Why you Should Avoid Unlicensed Plumbers
The advantage of hiring a licensed plumber is that you know you are hiring a well trained and qualified professional.  There are too many risks and uncertainties when dealing with an unlicensed plumber.  The following are the biggest reasons to avoid unlicensed plumbers:
There is no way to tell or prove that an unlicensed plumber has completed the same training and requirements as a licensed plumber.
Hiring an unlicensed plumber could cause you to end up with legal trouble. It is not illegal in Illinois to hire an unlicensed plumber and there are legal procedures in place to deal with fraudulent or deceptive businesses but going through the legal process will cost you time and money.  Hiring a licensed plumber will help you avoid this mess.
An unlicensed plumber can put your health and your property at risk with faulty services. Bad plumbing services can result in property damage as well as injury, illness, or death.
Unlicensed plumbers are more likely to scam you or engage in unethical behavior because they are not obligated to report to a regulatory board.
If you need the help of a professional plumber in your home, it pays to hire a licensed plumbing contractor. Hiring a licensed plumber will not only guarantee better services, but also protect you against fraud, property damage, and shoddy work. Good Work Plumbing and Electrical is a fully licensed and insured plumbing contractor that provides quality plumbing services within the standards and codes of the IDPH. Our plumbing professionals have the expertise to handle any plumbing services in your home and we stay current on our continuing education to maintain our license.  Contact Good Work Plumbing and Electrical if you need the help of a licensed plumbing contractor in the western Chicago suburbs.