As a homeowner, you are likely, on occasion, to require the services of a plumber or electrical contractor to solve issues in your home. Prior to contacting either a plumbing or electrical contractor, a few relevant considerations must be kept in mind to ensure you receive the best service for your needs.
When Do I Need a Plumber?
What circumstances necessitate a visit by a plumber? Any type of fix that revolves around the water lines in and around your home typically will involve plumbing services. A plumber will repair leaky faucets and toilets; he will replace or repair valves and pumps; a plumber offers expertise to repair water heaters; plumbing contractors also have the necessary skills to work on gas lines; and, a licensed plumber has the knowledge and training to replace water lines both inside and outside the home.
When Do I Need an Electrician?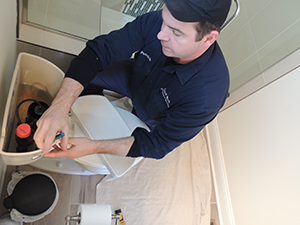 Electricians, too, perform work both inside and around your home, depending on the type of electrician. Electrical contractors can fall into one of two categories: outside contractors and inside contractors. Outside electrical contractors work outside your home, ensuring that power generated from power plants is safely transmitted through high-voltage lines prior to powering any homes, buildings and local facilities. Inside electrical contractors, on the other hand, work with cabling design, installation and maintenance in residences and commercial properties.
Many homeowners hire a skilled plumbing contractor or electrical contractor to perform work needed in and around their home rather than attempting to do the work themselves. A good contractor, whether electrical or plumbing, will give you tips on how to avoid further complications as well as pinpoint telltale signs of up-and-coming issues.
Plumbers and electrical contractors serve a vital need in the community. Plumbers work with public water supply lines that can impact the health of people. Water-borne diseases can pass through unclean water, for instance. Electrical work must be done in strict accordance to the National Electrical Code book to prevent electrical malfunctions and resulting house fires.
It's essential to ask questions while the contractor is onsite working on the plumbing or electrical problem. However, it is equally important to have a list of questions to ask a contractor before allowing him or her to begin work.
What to Ask a Plumber or Electrician Before Hiring Them
Are They Licensed?
A plumber must be licensed by the state in order to have legal permission to perform plumbing services. Licensure typically involves passing a written exam, obtaining training and education, and showing competence in the trade. A licensed plumber must also participate in continuing education to uphold an active license. Each state has rules and regulations that licensed plumbers must follow; any violations could lead to a suspension of his license and fines.
An unlicensed plumber may not have the necessary training and education to perform the job properly, which could lead to costly disasters, such as fires or leaks, in the future. Plus, some plumbers register with the state in order to work as a plumber. A registered plumber is not a licensed plumber; he has simply registered and does not meet the qualifications of a licensed plumber.
A licensed electrical contractor can fall under one of two categories: a master electrician and a journeyman. The master electrician has at least two years of expertise and possesses licenses in both design and installation of electrical systems. A journeyman is less experienced and oftentimes works under a master electrician. The journeyman usually possesses a license only for installation work.
Are They Insured?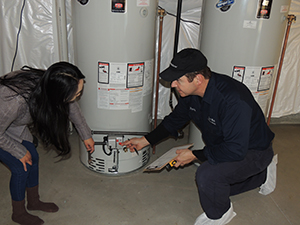 Both plumbing and electrical contractors must be insured. A plumber should carry commercial liability insurance to cover the costs of repairs if the work is faulty. In addition to insurance, a plumber should be bonded to cover any losses due to theft or illegal activities.
An electrician should carry, at a minimum, $500,000 in liability insurance and worker's compensation insurance. The liability for electrical work is very high, so make sure any electrical contractor hired meets these liability and insurance specifications.
Do They Provide Estimates?
Ask the plumber for an estimate up front, before any work has begun. Experts recommend obtaining at least three estimates in writing after the plumber inspects the issue. Find out if parts and labor are included in plumbing fixes. Plus, know beforehand if cleanup is included in the bill. Many plumbers will haul any old equipment; but, some may charge an additional fee to remove discarded parts.
Obtain an estimate from the electrician as well. An electrical repair, for instance, may not cover the cost of drywall damaged during the electrical fix.
What's Their Expertise?
Inquire about the plumbing contractor's training and skill levels. Professional plumbers and plumbing companies will understand any concerns about competence and will share this information with you.
Electricians may specialize in different areas, such as solar equipment or installing home automation systems. If your project requires specific skill and training, make sure the electrician you hire can fulfill the requirements to successfully perform the job.
Do They Have References?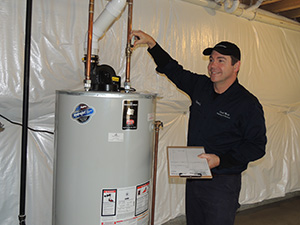 A good plumber will offer references from past clients in the area. The Better Business Bureau is also likely to produce several references.
Electricians also will provide references. It is a good idea to visit the site of a current project on which an electrician is working to look for clues of good workmanship, such as clear labels on circuit breakers, cables that are regularly anchored, or switch boxes that neatly sit alongside the surface.
When your home requires a visit from an electrician or plumber, contact a reputable contractor. The skilled team of contractors at Good Work Plumbing and Electrical understand that most home appliances and devices, like garbage disposals, sump pumps, and water heaters require both plumbing and electrical work. Good Work Plumbing and Electrical offers both plumbing and electrical contracting services at once, so homeowners avoid being charged for additional service calls.
We perform a wide variety of plumbing and electrical services and dependably take emergency calls. Good Work Plumbing and Electrical reliably serves the Downers Grove, IL community of residences and businesses.
Get a Free Estimate
To get a free estimate on your next plumbing or electrical service, contact Good Work Plumbing and Electrical at (630) 381-8285.